Pre-commercial Procurement of innovative ICT-enabled
in
tegrated care solutions to advance multidisciplinary health and
care
for patients with chronic
heart
failure
Pre-commercial Procurement of innovative ICT-enabled
in
tegrated care solutions to advance multidisciplinary health and
care
for patients with chronic
heart
failure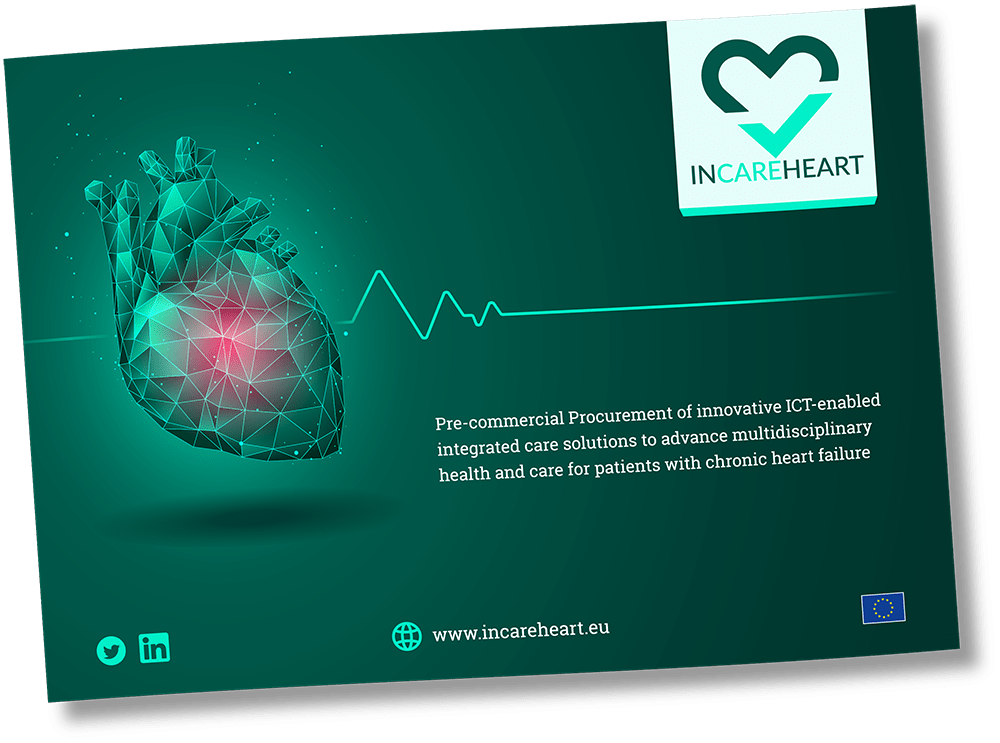 Project flyer is now available
Who?
Five public procurers from five countries will jointly procure an ICT-enabled integrated care solution to effectively support the management of a multidisciplinary care and support model for people living with Chronic Heart Failure (CHF).
For whom?
INCAREHEART could serve 1,320,000 patients with heart failure when fully rolled out in the procurer countries. The INCAREHEART solution will at its core seamlessly integrate into existing ICT systems, but also into processes and working practices.
What?
Building on the partial advances seen in integrated healthcare delivery, for the first time a range of features will be integrated into a modular solution to effectively bring different care providers, family carers, and patients into a shared CHF care pathway cutting across diagnosis, acute care and jointly managed long term care.
Let's talk business
Proven ability to cover the different health systems promises INCAREHEART suppliers' easy entry into other EU markets and beyond, a very strong contribution to overcoming fragmentation of demand and fostering the global market.
Why?
Introducing seamless transitional care processes are expected to effectively reduce emergency care needs, hospitalisation rates as well as increase treatment adherence.
When?
The project has started in February 2021, OMCs started in June 2021, and procurement is envisaged before Christmas 2021.
Competitive development in phases
In
PCP
, public procures buy R&D from several competing suppliers in parallel to compare alternative approaches and identify the most cost-effective solutions that the market can deliver for their requirements. R&D is divided into phases (solution design, prototyping, initial development and validation/testing of a limited number of initial products), with the number of competing R&D providers reduced after each R&D phase.
In preparation for the PCP Call for Tenders, an Open Market Consultation (OMC) is open from June to August 2021.
An OMC aims to:
inform potential suppliers (industry) about the INCAREHEART pre-commercial procurement opportunities.
explain in detail the pre-commercial procurement process
open a dialogue with market stakeholders about the scope of procurement envisaged in the project, including technical specifications

facilitate matchmaking among potential suppliers in need of support in the building of consortia capable of addressing the needs of the INCAREHEART procurers in full.
Interact with the 5 procurers to understand their needs and priorities.
Gain access to draft information on the Call for Tenders
Network to meet potential partners and competitors.
Position your organisation as a key player in the integrated care and heart failure market
Any stakeholder related to INCAREHEART (integrated care, heart failure):
Research organisations
Companies
Patients
Healthcare professionals
Healthcare providers
Scope document for the
OMC
If you are searching partners for a joint tender and would like to appear on the Matchmaking section of this website, you can register by completing the OMC questionnaire. This part of the questionnaire will remain open until the closure of the Call for Tenders.